One of ABC Virtual's core areas is that of online payment acceptance and distribution of funds. We are our own payment gateway, which means our customers don't have to go through other gateways that may cost more or have higher service fees. We are a level 1 PCI compliant company, which ensures our customers' data security. Merchants that choose to do business with us can either establish their own merchant account or use one of ours. We are capable of taking Visa, MasterCard, Discover and American Express, as well as Debit cards and echecks (ACH transfer).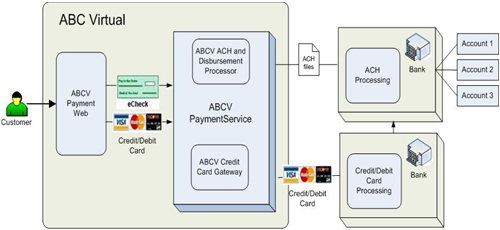 Several of our clients that currently use our payment service have commissioned us to build their web application and then incorporate the payment acceptance as a part of the application/web site. The Iowa League of Cities (iCash) is one such client that has been using the system for several years now.  Other clients include the Iowa YPO & WPO, YPO Golf Network, DMACC Continuing Education, Missouri Valley Line Constructors, and others.
In addition to customized web sites that utilize our payment system, we also offer a complete online payment system that allows for maximum flexibility and ease of use. Configurable in almost every aspect you can think of, this payment system is capable of integrating with existing web sites, or can be used as a company's main presence on the web. It is unique from other online payment applications in that it is also capable of taking in office, or point of sale, payments using a pin pad device. It is entirely Internet based, so no lengthy installations are required other than java and a driver for the device.
Some of the features of the ABCV Pay application include:
In Office, or Point of Sale, payments with pin pad device integration
Online payments for registered users that may make payments on a regular basis
Online payments for non-registered users who don't want their payment information saved
Over the phone payments where clerks or operators take payment information over the phone
Integration with existing web sites using our service for the payment backend
Online store capabilities – users can setup and display their merchandise on our customizable online store
Content Management – puts the content of the site at user's fingertips rather than making them rely on someone else to make changes. Page content as well as menu items and page links are all customizable.
Detailed reports
Our ABCV Pay's ability to customize is ideal for any number of situations where payments are collected. It is perfect for counties and cities and their various departments as well as small and medium companies who are looking for a web presence where they can accept payments. Please email: info@abcv.com for more information.